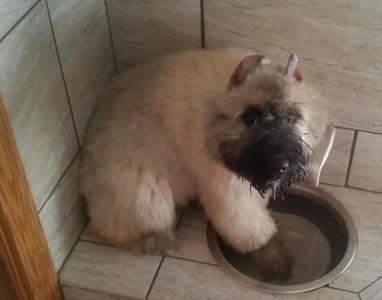 Welcome to Hitchcock Bouviers. My name is Lisa Waldron. Im a retired LPN of 30 years and I worked in a skilled long term care facility. I have always loved animals and Ive had everything from horses,sheep,ducks,turtles, gerbels,and of course dogs and cats.I currently have 7 dogs, a cocker spaniel, a vizsla,2 bouviers, a mix breed rescue, and 2 french bulldogs.
My husband Kenny and I became interested in Bouviers after Kenny listened to a book on cd on his 1 hour long commute to his work every day. This story line had a bouvier named max, which intriqued my husband. He came home that night and said we need to check out this breed of dog. I started researching the breed and breeders and fell in love with fawn colored Bouviers, and in a couple months we adopted our first Bouvier, a male we named Remy.
We purchased Remy from a breeder that had been breeding Bouviers for 35 years at the time, and became my mentor of learning about the breed including grooming, health issues, pedigrees,confirmation, etc. We have become close friends through the trials and tribulations of me learning to show and groom Remy for the ring. Since I've retired from my nursing career, Ive decided with this breeders guidance to try my hand at breeding.
We recently acquired a female Bouvier puppy from another breeder that was recommended to us which we named Chyna. With any luck , in about a year and a half she will have all her health testing done, like Remy,including hips, eyes,elbows, thyroid, and heart. We are hoping to produce our first litter in the spring/summer of 2019. In the mean time, I will be busy showing Remy and Chyna in confirmation dog shows, competing with Remy in carting trials, and continuing with Chynas obedience classes. We are also offering Remy for stud service, which we are happy to report his first litter of 2 puppies are on the ground and absolutely adorable.
I plan on adding one more female Bouvier to our family in the near future and I look forward to raising another beatiful,smart,healthy Hitchcock Bouvier for my foundation breeding program.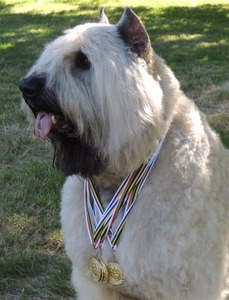 Health is a major concern with me, and I will only breed with the cleanest healthiest lines and pedigrees. I have learned the hard way about breeders not caring if they're breeding healthy dogs.My Cocker Spaniel was diagnosed with intervertabral disc disease shortly after her 2nd birthday. She was almost paralyzed and went for several consults,lasor treatments, xrays, medications, and finally crate rest for several weeks. She is fine now but is limited in her physical endeovors like jumping on and off a bed and cannot tolerate any strenuous activities. She was later diagnosed with hypothyroidism and will be on medication for the rest of her life.
Our next dog ,our vizsla, was also diagnosed with hypothyroidism at age 5, and he will also be on thyroid meds for his lifetime. Not to mention that his breeder never provided us with his registration papers for him, even though that was part of the purchase agreement. His breeder would not contact me back about the missing paperwork.
I had to ask myself, have I just had bad luck or is this the "norm" for breeders. Well, I was not done yet with my bad luck of unhealthy puppies. We purchased a female French Bulldog and she was diagnosed with severe bilateral hip dysplasia with osteoarthritis at 18 months of age. It is heartbreaking to find out your beloved pets have these health issues , especially at such young ages, but its also extremely expensive! This is why i feel so strongly about performing health tests on my dogs prior to breeding,keeping my lines as healthy as possible with researching pedigrees before i would consider purchasing a puppy for my breeding program or bringing in an outside stud to use in my line. I hope to spare anyone purchasing a Hitchcock Bouvier puppy the health issues I have had to deal with with when bringing a new puppy into your home.
I hope this gives you a little information about me and my background and hope you enjoy browsing through my website.
Update May 26,2018. Sadly my bad luck with health issues with my fur babies has left me heartbroken. My best buddy, Robi my Vizsla, was Dx with a large mass in his abdomen about 3 weeks ago. In a short period of 2 weeks he went from a strong muscled vizsla of 7 yrs old to bones protruding, vomiting bile, with his belly distended from filling up with fluid. The hardest decision I've ever had to make was deciding once he couldn't eat anymore, I would have to say goodbye to my best friend. My husband and I said goodbye to our redhead fur baby on May 18,2018. We miss you and you will remain in our hearts forever and ever.